Friday, August 30, 2002
Most of the people who read my blog may be disappointed because I don't say the word "POSTMODERN" enough. I'm sorry. The word is tired. Still a valid and useful concept, but I get bored over the same freakin' conversations replayed a thousand times. My brain and spirit needs rest. I play chess; I watch basketball; I read comics.
When I feel really geeky, I go
here
and discuss with other comic book freaks: "Who is the strongest? Thor, Hulk, Juggernaut, or Iron Man in his anti-Hulk suit?"
Now THERE is a conversation I never get bored of!
Melissa and I are returning to Commerce, TX tonight. The place where we first met. Party over at Graceland. Get to say "hi" to some of our college buds (who are on the 7 year plan). From there, I am driving to Arkansas for a wedding. (Melissa is staying at home.) My friend James is getting married. I rented Angela's Ashes and 'Tis from the Audio Book Library. I'm going to listen to them on the trip.


Tuesday, August 27, 2002
"F---, it's a great time to be a comic book fan." - Kevin Smith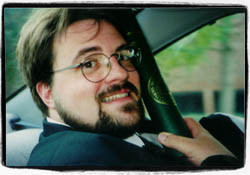 I have been using my Windows Messenger more. My account name is "accessdavid." Feel free to say "hi" sometime.

excerpt from SPACE TO OCCUPY (AND OTHER SUBURBAN DILEMMAS):

WILL. Nine months ago. I dropped the radio into the bathtub on accident. Nothing happened. It was one of those old crappy radios. Not waterproof at all. There I am, in the tub, with it still playing underwater.

ASHLEY. You were lucky.

WILL. So I then plugged in the hairdryer and dropped it into the tub.

ASHLEY. You what?!

WILL. Nothing happened.

ASHLEY. That was not smart.

WILL. Then I grabbed my toaster…

ASHLEY. You didn't.

WILL. I did. Nothing. I had almost every appliance in the bathtub with me. It was quite an evening.

ASHLEY. You're an idiot. A lucky idiot.

WILL. Maybe so, but after that, I've been obsessed with the possibility of ending it-- heaven or no heaven. The next day I gave myself nine months to live. I marked my calendar. Today's the day.


Sunday, August 25, 2002
The script has been written. The artwork looks really good.
Opening night is not too far off...
Visit
Trust Theatre Company
for more information about the play.
"The major advances in civilization are processes that all but wreck the societies in which they occur."
-A.N. Whitehead.
Friday, August 23, 2002
Thursday, August 22, 2002
The X-Men 2 trailer is out! The X-Men 2 trailer is out! The X-Men 2 trailer is out! The X-Men 2 trailer is out! The X-Men 2 trailer is out! The X-Men 2 trailer is out!
The X-Men 2 trailer is out!
The X-Men 2 trailer is out! The X-Men 2 trailer is out! The X-Men 2 trailer is out!
I'm giddy. Seriously, when the first X-Men movie came out, I skipped school to see it. I nearly wet my pants during the opening credits. (I'm sorry... but I'm really NOT kidding!)
What's your GQ (Geek Quotient)? Mine is 80.5
Take the
Geek Quiz
Tuesday, August 20, 2002
My newest editorial rant for
Next-Wave Magazine
:
"Lately, I've been in the mood to set fire to something. I just don't know what needs to go up in flames. Maybe it's my obsession with movies, but I feel an overwhelming need to find an enemy, an antagonist, a villian. Unfortunately, everyone is too darn polite..."
To read the rest of the article,
click here
.
Monday, August 19, 2002
Ellen Feiss, student
click here
You make me proud to be a teacher.
Quote from Melissa's girl punk rock compilation CD:

"I don't care about going to school. I don't care about having friends. I don't care because I'm a rock'n'roll machine."

Friday, August 16, 2002
As a high school teacher, every year I receive a packet "QUICK REFERENCE GUIDE: TEACHER CRISIS MANAGEMENT." The packet gives an overview of what to do in any given situation. Here are the situations this packet covers (no kidding):

Accidental Injury
Assault
Bomb
Child Abuse/Neglect
Death
Drugs
Fire
Hazardous Material Spill
Hostage Situation
Lock-down Procedure
Intruder
Power Outage
Sniper Gunfire
Suicide
Weapons
Weather/Tornado

I'm ready. Let the year begin!

My friend
Dan
posted something on his blog that my other friend
Senator
had posted. And now, to follow suit-- I must also post, one of the best lines from our hero Lloyd Dobler in
Say Anything
:
A career? I've thought about this quite a bit sir and I would have to say considering what's waiting out there for me, I don't want to sell anything, buy anything or process anything as a career. I don't want to sell anything bought or processed or buy anything sold or processed or repair anything sold, bought or processed as a career. I don't want to do that. My father's in the army. He wants me to join, but I can't work for that corporation, so what I've been doing lately is kick-boxing, which is a new sport... as far as career longevity, I don't really know. I can't figure it all out tonight, sir, so I'm just gonna hang with your daughter.
Thursday, August 15, 2002
Any chess players out there? I play online
here
. My player profile:
click here
. Feel free to challenge me to a private game.
"We must not confuse the Kingdom of God with our country. To say it another way: 'We should not wrap Christianity in our national flag.' "
-Francis Schaeffer



How busy am I, right now?

The August issue of Next-Wave should be online NOW... but it's not. Why? Well, I've been doing NOTHING all summer long-- until last week. I'm getting ready for school. My students return next Monday. But also, my dear friend Aja has asked me to write a play for her. I say, "Great! I'd love to write something." She says, "And oh yeah, we're performing your play at University of Texas- Arlington on September 14th." #*%&! So I have about two weeks to write the play before they begin rehersing it.

I'm spending this evening in my classroom listening to my new Charlie Mingus CD and writing like crazy. But I am truly very very very exciting to have some talented actors perform something I've written... even if it is rushed.

Play info:
space to occupy (and other suburban dilemmas)
a play in one and a half acts

"Many die too late, and a few die too early. The doctrine still sounds strange: 'Die at the right time!' "
-Nietzsche, Thus Spoke Zarathustra

Opening night: Saturday, September 14th (dear God...)

Thursday, August 08, 2002
The new labor-of-love for the 21st century:
Cleaning out the junk mail in my wife's e-mail account.

Thursday, August 01, 2002
More signs of Suburban Hell:

* SUVs with flat screen televisions mounted inside them

* Cola wars

* Super Target



xxxchurch.com
The people at
xxxchurch.com
have got their stuff together! Not to mention, the t-shirts have been the topic of many Wednesday night discussions.
As requested, here's the link to
buy the t-shirts
. Check out the site. Let's support this ministry.
Say no to the bunny!